#1: 10 second count bridge 

#2: 5-6 inhales in each stretch, per side 

Repeat: Bridge, Knee to Chest, Thigh Cross Over 

#3: Knee to elbow with knee twist: 10 reps 

#4: Kneeling Medicine ball Push backs: 10 reps 

For the first couple exercises you don't need anything but a mat. 

The BOSU Ball used for the KNEE TO ELBOW TWIST is optional. Your hands can be placed on floor.

The Medicine Ball is also optional; free weight can be used or hold nothing doing the exercise. 

Warm up the lower back, hip flexors and glutes with the first set of floor exercises. Engage the core and counter balance with the #3 knee to elbow and #4 kneeling push aways.

Doing this sequence helps establish core stability which in turns helps a rider position themselves better in the saddle. 

Breath during this warm up. Part of riding includes moving with natural range of motion. When you move while breathing and time the breathing with the movement, you can train basic core functionality. 
GLUTE WARM UP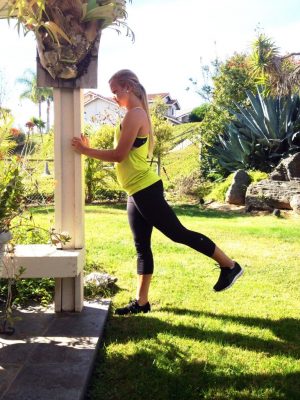 Need More Exercise Ideas? 
Try our INSTANT WORKOUTS, designed for specific riders priorities in strength, stability, balance and mobility.