Equestrian Saddle Stability
Stability is strength and balance. Balance must be trained constantly to remain tip top. Strength is developed and combined with balance produces stability. 
In the saddle 
An equestrian uses the core to sit in the saddle, which alters the base of stability in the athlete. Most other sports require the athletes to find a base in their feet for stability. Horseback riders need to find stability in the saddle with their seat; hips and lower core.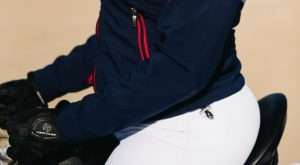 Train stability for riding horses. 
Find exercises that challenge balance and strength.  If the exercise is too difficult, then step back and simplify the exercise. Take out the balance challenge and focus on the strength part of the exercise.
example: squat on BOSU Ball
The balance challenge is the squat on BOSU. If that's too hard, just practice the squat. This will develop proper mechanics of the movement and then once strength is obtained to do a squat correctly, try it on a BOSU ball. 
So many people want to try to fun exercises that look impressive to do. When conditioning for riding in the saddle, the athlete must be smart about the protocol of how to achieve stability. The BioRider Method eliminates the balance challenge until proper mechanics are developed for the exercise. 
After one has developed the strength, test the overall stability while performing the movement. Squats are similar to posting the trot. If you can do that on a stable surface like the ground, you've got the movement down. Stand on a piece of balance equipment and you will be testing balance while doing the squat. This replicates the challenge that riders have in the saddle. Can they stabilize themselves while on a horse. Train the smarter way and see the results.  
Our beginner program develops basic strength for working in the tack. The more advance program challenges a riders balance while increasing the functional strength needed for basic movements. 
squat with shoulder press