Imagine yourself sitting in the saddle and you keep hearing you trainer say "elbows in". Your trainer might help the imagination with "like holding a towel under each arm". 
As a horseback rider, you're being asked to bring the arms in while continuing to keep everything going between you and the horse. It's easier said than done! 
NOW, you're being asked to bring the elbows in!  How do you do it?
Think about it…
What muscles are working to do this motion? 
The primary muscle groups that connect under the armpit and ribcage that are responsible for holding the arms in when you ride a horse are the following;  obliques, deltoids, latissimus dorsi, bicep, tricep. 
By activating those groups of working muscles, they will stabilize the ribcage and shoulder to stay steady in the neutral shoulder position. Which brings the elbows to a slightly bent positioning directly drawing the arms in. 
A big bicep or deltoid isn't going to fix you losing your elbows trotting or cantering horses. It's the entire working connection between these muscle groups bringing the arms inward naturally to the side of the ribcage. 
Start with a side plank with elbow planted on ground, directly underneath the shoulder. Stack the feet on top of one another. Knees on or off the ground. In either position, always make sure the spine is straight from shoulder to hip, no twisting. 
This is the basic, fundamental muscle recruitment for supporting the arm position spoken earlier in this blog. 
Repetition Range: Hold for 30 seconds each side 
Lower degree of difficulty: Knees down on ground
Higher degree of difficulty: Elevate thighs and knees off ground.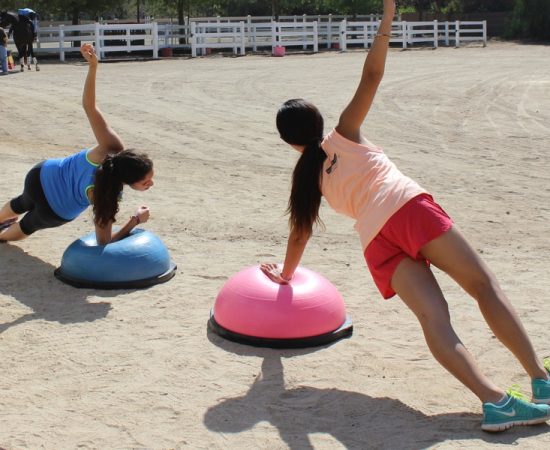 Take it a step further and work this sequences of side planks with or without BOSU under the feet.