A rider has to sit a certain way to prevent unbalancing the horse they're riding. A rider sits upright to prevent spinal compression or whiplash. The body's own natural mechanics work within the core to flow with the horse through the arena.  Increasing the natural mechanics in the body will make it easier to sit tall on the horse. 
Sitting tall is easier said than done. 
The more you ride with a tall core, you will gain stamina to keep that posture. A good trainer will keep reminding you to sit up but with weak core muscles your posture will collapse. There's a real struggle to sit tall on a horse.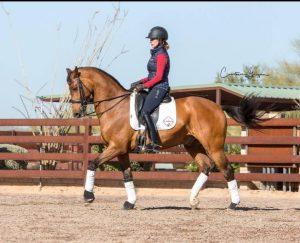 Most everyone can sit upright in the saddle when the horse stands still and walks around. But once the horse starts moving, a riders' core must engage while doing everything else on a horse. After some time, the position of the rider collapses which causes more problems. Time now is being spent fixing the posture or fixing the problems with the horse instead of working on new material.
If the position could stay strong and stable, the horse has less opportunities to take over and more opportunities to learn. But a rider can't help when fatigue sets in to their muscles. They truly must condition the muscle itself.  It's easier to do that on the ground in conjunction with riding then riding alone. 
*Trainers Note: Give your students a break! Oxygen needs to be released back into the bloodstream. Your student needs oxygenated blood to their muscles. A couple laps walk break will help all the muscles to develop rather than breakdown. Too much breakdown will cause more position problems for your rider. 
If you ride with bad posture, try training the muscular system to maintain core engagement. You can increase muscle stamina in weaker areas within the core: abdominals, obliques, spinal erectors, possible latissimus or pectoral. There is so many muscles that connect in your core, after all it's the center of stability.  
The struggle is real and sitting tall on a horse is difficult.
Muscles the help a rider sit tall in the saddle. 
Primary
Spinal Erectors 
Abdominal Muscles 
Oblique Muscles 
Pelvic Muscles 
Secondary
Latissimus Dorsi 
Pectoral Muscle
The Bridge on Stability (Swiss Ball) 
Lay flat on back
Hands on ground next to hips
Place both feet on ball
Relax the neck and shoulders 
Move hips closer to ball so knees are bent 90 degrees 
Lift the hips off ground 
Try to elevate so stomach is even with thighs
Keep core engaged
Hold the position for 45-60 seconds 
Bring hands off ground, above chest for added difficulty 
Repeat bridge on ball 2-3 more times