Now-a-days most horseback riders are understanding the benefits of physical training. "If I get in shape, then I will ride better". There's more to it and some would think the easiest way to get in shape for your riding is just get to the gym and do something.  Simply doing anything is better than doing nothing but what is really the purpose for training off the horse? 
To prevent future issues or problems. Everyone's got them, most will never admit to having any physical issues especially horseback riders. 
One huge reason to start training with the BioRider Program is that we've taking the guessing out of the equation. You just grab your smartphone and workout; following from exercise to exercise. There's no quick fix just like training a horses, one has to progress at their own pace. Over time the body becomes stronger and adapts to the workload. 
Most horseback riders feel that they're doing enough with barn chores and riding. Trust me, I've heard it all. The body is just breaking down, even though the person feels like it's enough to help make them stronger. It's not!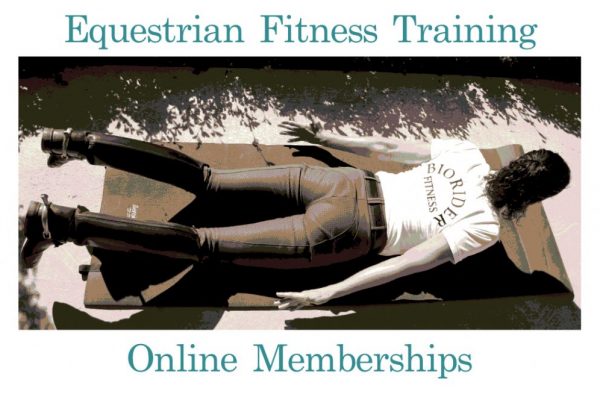 My best reference is of course horse related.. would you work the horse just over jumps or just go through a test over and over? Or would you try and train the horses to become better athletes? Which style of training would cause more damage and injury? I am sure that the answer is obvious. 
The purpose of training is to build up, develop muscle to sustain the workload. There's a trend going on right now in the equestrian world and who better to speak up about it but me. Physical therapy. There's a time and place for it but as an athlete striving to be better, this isn't going to build the body up. This is a maintenece program to help allieviate problems that are underlying for the athlete. Basically stuff that they should have taken care of a while ago. 
Like I said earlier in this blog, athletes especially horseback riders have issues and problems that are compiling over the years. Physical therapy is a great way to get rid of some of those problems but it doesn't develop the body to peak performance. That happens with working out over and over and over. It's never ending. 
So what's the point of training? To make our bodies more able to perform. Therapy is a additive to our health and fitness. Doing a workout is the only way to build and condition ourselves for better performance in the saddle. 
Don't wait until it's too late and you can't workout because it hurts too much. Make sure your attacking the weaker areas of the body, everyone has them. Use physical therapy and other body work therapies to help mobilize joints but do the homework before it's too late. 
Here we have many options for horseback riders to get themselves working out correctly and without tons of thinking. Yes you will repeat the exercises but how would a horse learn a pirouette or any other movement without repetition. Treat and train your own body like an athlete. #betheathlete