Know where your feet are positioned
in and out of the saddle
Our entire muscular system aligns together for optimal performance so it's important in exercise to teach proper form.  One of the biggest limitations in riding is seat positioning.  The pelvis is the base of a rider's stability and balance but if the feet are not correctly positioned than the pelvis will have stability imbalances. To have structural stability one must have proper alignment. This can be trained off the horse when working out.
Depending on what activity you're doing, what you want to accomplish and how you want to land, the feet must be correctly positioned for the best outcome.
Other sports require the feet to base the athlete's stability and power; however a horseback riders base is the pelvis. Any movement in the rider's pelvis and hips, the horse will feel it and react.
The truer difficulty in being effective and well positioned while riding a horse is your physical alignment. Usually the rider is unaware and continues to sit even and quiet but still problems are occurring.
A horseback rider's natural alignment is what fails the system and not how fit the rider is, that's the secret!  Below are some tips to training structural alignment so that you can get fit on the horse, as a rider.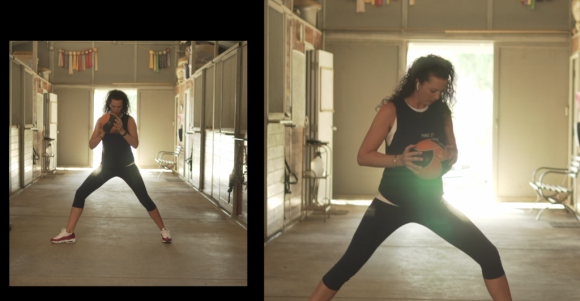 FEET POSITION 
IN THE SIDE LUNGE
Top things to look for! 
Angle of the leading foot. 
Angle of that same knee.
Point hip bones forward light headlights of a car. 
Bend leading knee without turning foot and knee inward. 
Push through leading foot back to starting without collapsing leg inward. 
Each and every time you do the movement of the side lunge, look at your positioning. Train your brain to connect to proper leg alignment. 
Need Workout Ideas 
become a member today and save!